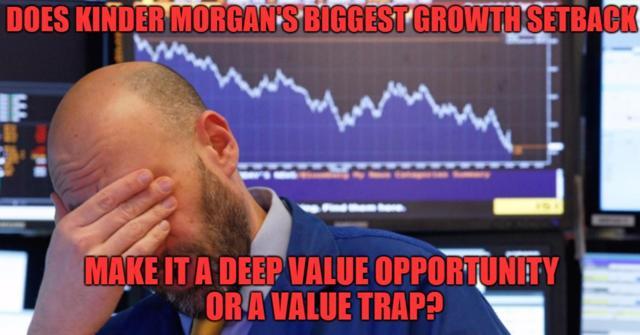 (Source: imgflip)
Kinder Morgan (NYSE:KMI) was once the darling of the midstream industry, thanks to its enormous base of wide-moat assets, highly stable long-term contracted cash flow, and very fast dividend growth.
Then, the wheels fell off during the worst oil crash in over 50 years. Several major mistakes made by management over the years put the company in a liquidity trap that forced a tragic 75% dividend cut as part of a massive corporate restructuring plan.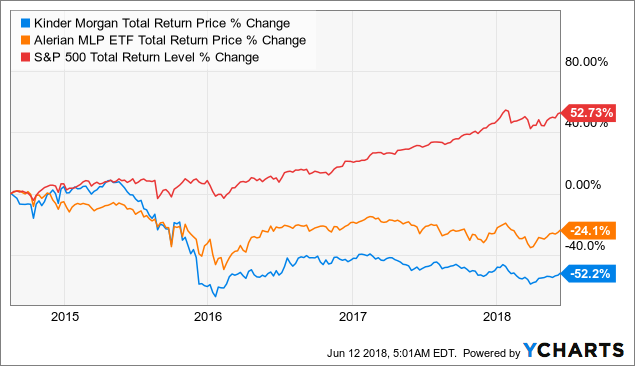 KMI Total Return Price data by YCharts
Over the past few years, that plan has proceeded slowly, and long-suffering investors have had to see the stock vastly underperform not just the broader market but even other midstream stocks, which themselves have been in a four-year bear market.
In recent quarters, Kinder's growth prospects appeared to brighten considerably, thanks to the end of its asset sales (used to deleverage the balance sheet) combining with a return to growth of its project backlog. Management even revised its capital return program to include three years of massive dividend growth (150% by 2020) and a $2 billion share buyback authorization. Best of all, Kinder pledged to continue self funding its growth, meaning the company's super-low share price would not be a threat to its future plans.
Now, however, comes news that Kinder is throwing in the towel on its Trans Mountain Expansion Project, which has been plagued by years of costly delays due to legal and regulatory challenges. At $5.7 billion, this was by far the largest growth catalyst in its arsenal (about 50% of the growth backlog). More shocking? The company isn't just giving up on the expansion of this enormous pipeline system but selling the entire thing to Canada's government in a 4.5 billion CAD ($3.5 billion) deal to wash its hands off the entire mess.
Let's take a look at the five most important things current or prospective investors need to know about this fallen pipeline giant. Specifically, find out whether or not Kinder's latest (and by far the largest) setback to its turnaround plan means it represents a deep value opportunity or a value trap to be avoided.
1: Kinder Continues To Be Haunted By Its Past Mistakes
Kinder Morgan has spent 20 years and about $62 billion building up one of North America's largest and most vertically integrated midstream empires.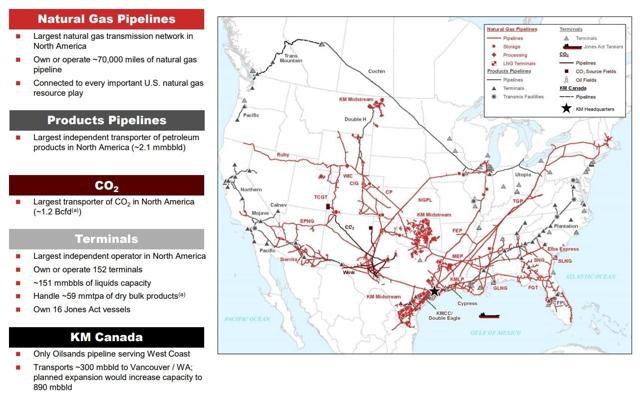 (Source: Kinder Morgan Investor Presentation)
That includes 85,000 miles of pipelines connecting all of continent's biggest energy producing regions and setting up Kinder to potentially profit handsomely from America's ongoing energy mega-boom.
However, poor capital allocation decisions have come to haunt Kinder due to its decision to grow its dividend too quickly in the past. Specifically, back during the boom times of the early-to-mid 2010's (when crude was trading at about $100), Kinder management decided to grow the dividend as quickly as possible (about 10% per year). This caused the company to pay out 93% of its distributable cash flow, or DCF, as dividends. DCF is the midstream equivalent of free cash flow and what funds distributions and dividends.
Because it was retaining almost no cash flow to invest in growth, Kinder had to take on massive amounts of debt and issue lots of equity.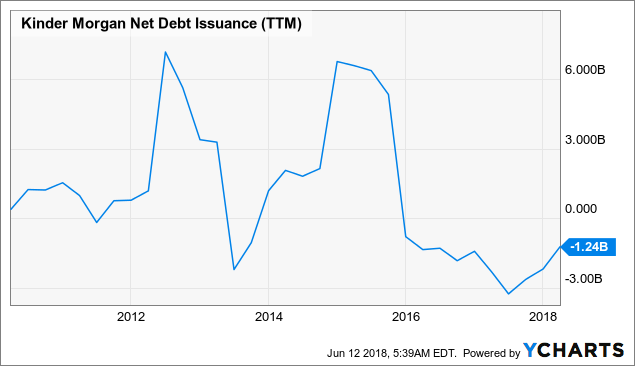 KMI Net Debt Issuance (TTM) data by YCharts
KMI Shares Outstanding data by YCharts
Most of that share dilution came in late 2014, when Kinder Morgan decided to streamline its corporate structure via the $70 billion acquisition of its 3 MLPs. The deal was hailed by management as a great way to maintain future dividend growth, including lower costs of capital on the funding of its $22.5 billion project backlog. Through the end of 2015, Kinder was claiming that it could maintain safe dividends that would grow at 10% annually through 2020.
However, the trouble was that the timing of its MLP rollup literally couldn't have been worse. The company announced its mega-deal in August 2014 just as oil prices were peaking and OPEC was getting ready to unleash a massive price war designed to regain market share and bankrupt the US shale industry. In other words, Kinder ended up taking on tons of debt and more than doubling its share count (and dividend cost) right before the worst oil crash in over 50 years – one that would see the price of oil plunge 76% peak to trough.
The debt and equity markets that had spent years providing midstream MLPs and companies with cheap capital slammed shut, and Moody's gave Kinder Morgan an ultimatum. Either the company cuts its dividend and diverts DCF to paying down debt and funding growth internally, or it would be downgraded to junk bond status. That would make refinancing its almost $44 billion in debt far more expensive, and basically make it impossible for the company to grow profitably.
So, management bit the bullet and slashed the dividend to a near-token amount, while also embarking on an extensive deleveraging plan. This included major asset sales which reduced the company's debt by $6 billion, including:
Selling 50% of the southern natural gas system to Southern Company (NYSE:SO).
Selling 50% of the Utopia ethane pipeline to Riverstone Investment Group.
Selling its remaining 50% position in the Parkway refined products pipeline to Valero Energy (NYSE:VLO).
Entering into a joint venture with Brookfield Asset Management (NYSE:BAM) to acquire new gas pipelines.
Apache (NYSE:APA) has an option to buy a 15% stake in a $3.4 billion Permian gas pipeline that Kinder has a 50% stake in.
The $2 billion IPO of Kinder Morgan Canada that cost it a 30% stake in its Canadian operations but would fund 65% of the $5.7 billion Trans Mountain Expansion Project.
Most troubling is the company's enormous backlog of projects, which peaked at $22.5 billion in 2015, then proceeded to shrink to $11.8 billion by the end of 2017. That was mostly due to cancelling CO2-related projects (the most profitable for Kinder Morgan at the time).
| | | |
| --- | --- | --- |
| Metric | 2017 Growth | Q1 2018 Growth |
| Revenue | 5.0% | -0.2% |
| Distributable Cash Flow | -0.6% | 2.6% |
| DCF/Share | -1.0% | 3.7% |
| Dividend | 0% | 60% |
(Source: Kinder Morgan Earnings Release)
The result of all those asset sales is that the company's top and bottom line growth has slowed to a crawl. That's despite strong 6% growth in gas pipeline revenue and 5% growth in its terminal business in its most recent quarter.
Management's guidance for full year 2018 also left a lot to be desired, with the company forecasting $2.05 in full-year DCF/share, or 2.5% growth. However the good news is that due to Kinder Morgan's far better fiscal situation, specifically its new self-funding business model, management was able to massively increase its planned capital returns.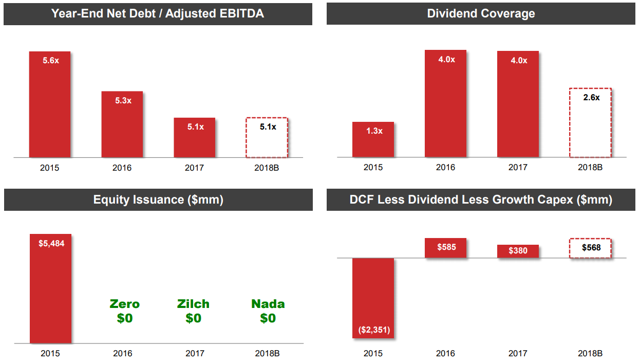 For example, it expected to generate $4.6 billion in DCF in 2018 and spend just $2.3 billion on growth projects. That would leave $2.3 billion to fund the $1.8 billion dividend, and still leave $568 million left over to either pay down debt or buy back the company's highly undervalued shares. In fact, since December 2017, Kinder has so far bought back $500 million in shares at an average price of $18.51, or a DCF yield of 11.1%.
Or, to put it another way, buying back shares at today's levels (DCF yield now 12%) is actually more accretive to DCF/share than its average growth project which has an EBITDA and DCF yield of about 16.7% and 11%, respectively.
Best of all? Management reiterated its long-term plans to continue the restructuring, which included:
Getting debt/Adjusted EBITDA below 5
Raising the dividend by 25% in 2019 and 2020
Remain self-funding (100% independent of equity markets for growth funding)
However, now comes news that Kinder's long drama over its Trans Mountain Expansion Project, which represented about 50% of its growth backlog, has come to a rather shocking conclusion.
2: Trans Mountain Sale A Major Blow
The 900-mile Trans Mountain pipeline runs from Alberta's tar sands to export facilities in British Columbia and has a capacity of 300,000 barrels per day. Since December of 2013, Kinder Morgan has been trying to triple the capacity of the only pipeline leading from the tar sands to Asian market export facilities on the country's west coast. In late 2016, the Canadian National Board Of Energy (equivalent to America's FERC) approved the pipeline. However, since then, Kinder has battled with local and provincial regulators over rights of way and construction permits that have been held up in the courts. In fact, the parties opposing the pipeline, led mostly by environmentalists, have taken their appeal to block the project all the way to Canada's Supreme Court.
On April 28th, Kinder, which has already invested $860 million into the expansion project, announced it was ceasing all non-essential activity on the pipeline until it could guarantee that it would receive approval to finish the expansion. Then, on May 29th, the company announced that it was not just cancelling the project but selling the entire Trans Mountain pipeline to Canada's government, which vows to complete the expansion project by finding a third party to build it.
Kinder Morgan expects its share of the $3.5 billion deal (to close later this year) to come to $2 billion after tax, and represents a sale of those assets at about a 20% premium to book value. But of course, this means that the company just underwent yet another major asset sale, which will cost it not just future cash flow but also major DCF growth potential. The good news is that due to the timing of the deal closure, Kinder expects the sale to not affect its 2018 DCF guidance.
That's because the company has several projects coming on-line that should offset any declines from the loss of the pipeline this year. What about in 2019 and beyond? Well, losing the Trans Mountain Expansion Project is surely a blow for Kinder's growth prospects, since the project was the cornerstone of the backlog that was expected to boost DCF/share by 22% through 2022. Specifically, Kinder expects its new smaller growth backlog to yield 35% less marginal DCF growth in the future, since Trans Mountain was expected to generate $600 million per year in additional cash flow. In effect, this means that the company's growth backlog will now deliver 13% DCF/share growth through 2022. However, we can't forget that the loss of the existing pipeline also means ongoing growth headwinds next year.
The good news is that with the recovery in oil prices, Kinder has been able to finally start growing the project backlog again. That includes an average of $1.3 billion in new growth opportunities the company has been finding since mid-2015 and $2.1 billion in the past 12 months. In fact, according to CEO Steve Kean, Kinder's growth potential, while taking a hit, is far from dead.
"During the last twelve months, we have added approximately $2.1 billion. Assuming that KMI can invest $2.0 billion per year at an average capital-to-Adjusted EBITDA multiple of approximately 7.0 times (versus the on-average 6.0 times for our backlog as of the first quarter of this year) those investments would yield KMI incremental annual EBITDA of over $300 million, representing greater than 4 percent annual EBITDA growth."

– Steve Kean, Kinder Morgan CEO
Under management's highly conservative guidance of just $2 billion in annual growth spending, the company thinks it can grow cash flow by 4% per year. And buybacks could boost that further, as could achieving EBITDA multiples of 6 rather than 7. Note that Kinder's remaining backlog is expected to generate EBITDA multiples of 6, indicating a 16.7% EBITDA yield (and a DCF yield of 11%).
Factoring in buybacks and slightly higher DCF yields on new backlog projects, this means that Kinder Morgan should be able to achieve about 5% DCF/share growth over the coming years (assuming no other major project failures). That's in line with Morningstar's Travis Miller's estimate that KMI's DCF/share will grow at 5% CAGR through 2021 based on its remaining backlog and highly accretive share buybacks.
Now, the good news is that Kinder's addition of new growth projects has been ramping up recently. For example, in Q1 2018, it added $900 million in new projects, including a $30 million investment that is expected to generate 50% cash yields. While that tiny project isn't going to move the needle, it does show that America's booming energy industry is still providing plenty of high-margin investment opportunities for Kinder.
This includes in the Permian basin. The Permian is America's super shale formation which holds over 70 billion barrels of recoverable oil & gas reserves. Kinder recently bought on-line its Gulf Coast Express project, which is a gas pipeline serving that formation. The company is currently in negotiation with various oil & gas producers in the region to obtain contracts sufficient to build a second major gas pipeline.
In fact, while the loss of its biggest growth project is a major blow, the fact is that Kinder is still well-positioned to benefit from America's energy mega-boom – one which is expected to provide the entire industry decades of strong growth potential.
3: Strong Long-Term Growth Catalysts Remain
It's important for investors in Kinder to remember that while the struggling midstream giant may have struggled in recent years, it remains one of the continent's largest collection of wide-moat, cash-rich assets.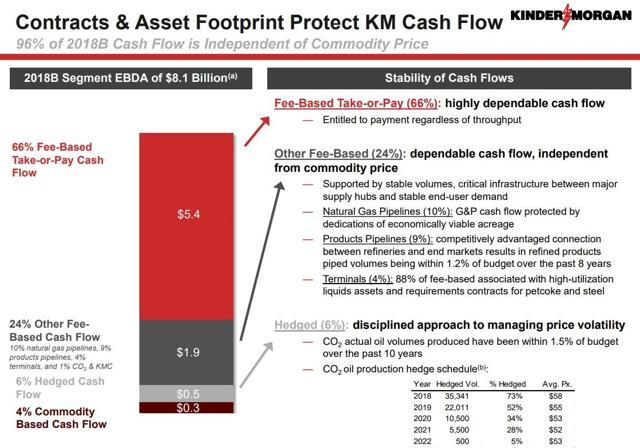 (Source: Kinder Investor Presentation)
In fact, 2/3rd of the company's cash flow is under take-or-pay contracts, meaning that producers reserve capacity on its pipelines and Kinder gets paid whether or not any product gets shipped. The rest of the cash flow is similarly fee-based (under long-term contracts), and thanks to hedging just 4% of the company's cash flow, is sensitive to volatile commodity prices.
This creates a very large and stable base of DCF with which to fund its still large remaining backlog of projects, 88% of which are supported by fixed-fee contracts.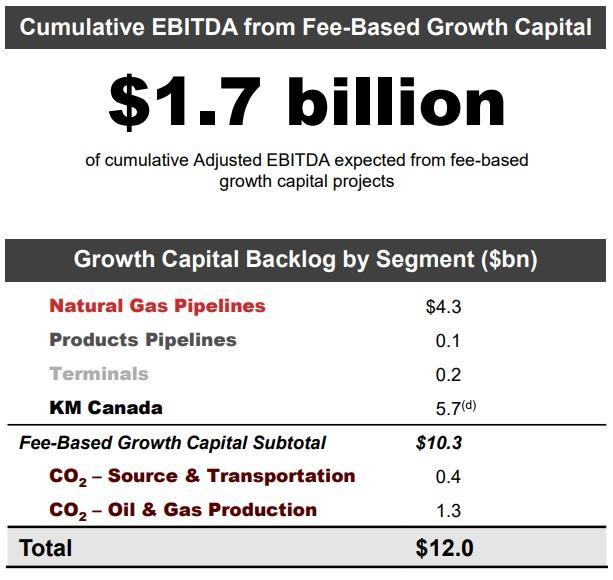 (Source: Kinder Morgan Investor Presentation)
With the removal of the Trans Mountain expansion, Kinder's backlog drops to $6.3 billion and is expected to boost cash flow by $1.1 billion by the time it's completed in 2022.
The good news is that America's fracking-induced energy renaissance means that Kinder is riding several major industry trends, including strong growth in natural gas and booming demand for oil pipelines (especially in the Permian basin) and refined product pipelines.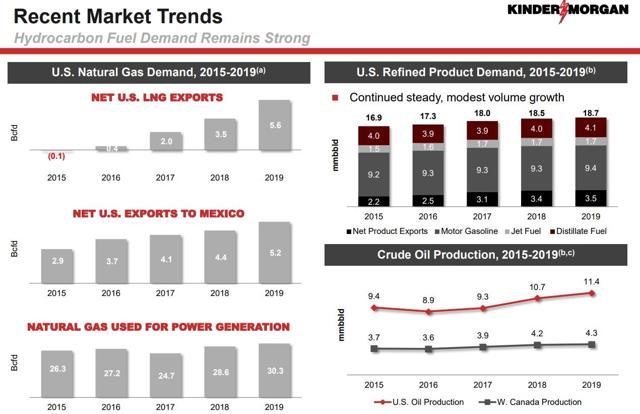 (Source: Kinder Investor Presentation)
In fact, depending on the project type, Kinder Morgan could earn very high EBITDA multiples on future growth projects.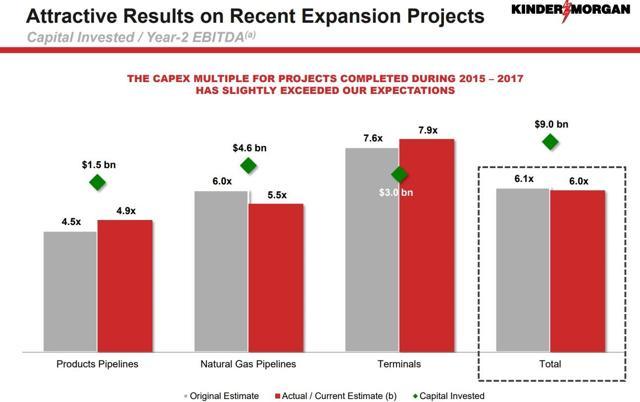 (Source: Kinder Morgan Investor Presentation)
Again, the EBITDA multiple represents how long it takes for a project to pay for itself and represents the cash yield on investment. Kinder historically converts 67% of EBITDA into DCF, meaning that over the past three years, its DCF yield on projects has been:
Terminals – 8.5%
Natural gas pipelines – 12.2%
Refined products pipelines – 13.7%
Remaining backlog – 11.2%
How profitable are these projects for Kinder Morgan? Well, that depends on the exact funding mix the company uses. For example, in March 2018, Kinder issued $2 billion in long-term bonds:
$1.25 billion 10-year notes at 4.3%
$750 million 30-year notes at 5.2%
Weighted average: $2 billion in 17.5-year bonds at 4.6%
The company also has $4.4 billion remaining under its $5 billion revolving credit facility, meaning it has $4.7 billion in current liquidity, or enough to fund about two years of planned growth capex spending. It should be noted that self-funding in the midstream industry doesn't mean 100% funding projects with retained DCF (DCF minus dividend/distribution). Rather, it means using retained DCF to replace the equity portion of the growth budget. That ensures a midstream operator can grow no matter how low its share/unit price sinks.
| | |
| --- | --- |
| Weighted Average Cash Cost Of Capital | 2.2% |
| DCF Yield On New Projects | 11.2% |
| Gross Investment Spread | 9.0% |
(Source: Management guidance, Earnings Release, F.A.S.T. Graphs)
Assuming that Kinder follows its historical trend and funds 48% of growth with low-cost debt, its weighted average cost of capital is 2.2%. That means the current backlog of projects will yield a gross investment spread of 9.0%. For context, in the midstream industry, where incentive distribution rights raise costs of capital significantly, an investment spread on new projects of 3-5% is considered excellent. Nearly double-digit investment spreads are almost unheard of. In other words, Kinder's self-funding business model makes its future growth among the most profitable in the industry.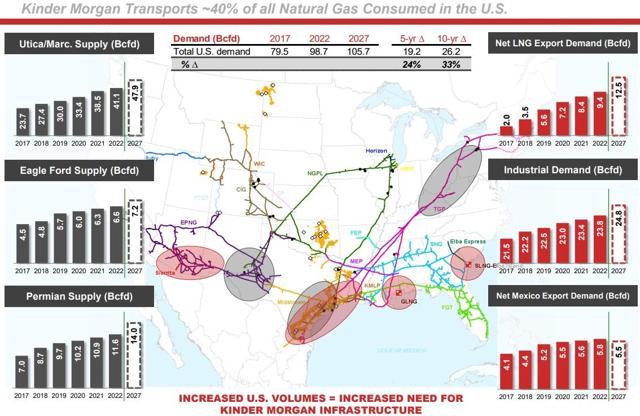 (Source: Kinder Morgan Investor Presentation)
Driving that growth will be Kinder's leading position as America's largest gas distributor (40% of US gas runs through its pipes). In the coming decade, US gas demand is expected to soar as the country continues transitioning from dirtier and more expensive coal power to cheaper, cleaner (NG produces 50% less CO2 emissions per unit of power), gas-fired power plants.
In addition, Mexico is also switching to gas, which is expected to result in significant growth in gas exports to that country. Overseas demand for cheap and clean US gas (especially from Europe, China, India, and Japan) is expected to drive over 500% growth in US liquified natural gas, or LNG, exports. Finally, America's booming manufacturing base is also switching to natural gas as the lowest-cost source of power for its factories.
Supplying the projected 33% increase in natural gas demand will be America's three super gas basins:
Eagle Ford (East Texas) – 60% growth over 10 years
Marcellus/Utica shale: (Pennsylvania/Ohio) – 102% growth over 10 years
Permian basin: (West Texas/New Mexico) – 100% growth over 10 years
It's important to note that US gas production is expected to see strong growth for not just the next decade, but through at least 2050, according to the US Energy Information Administration, or EIA.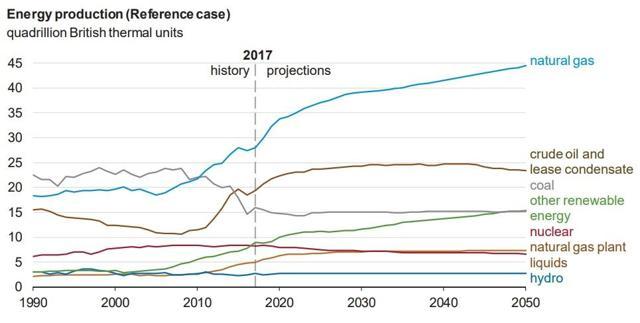 (Source: EIA.)
And gas is hardly the only growth driver for Kinder Morgan. The company also has the potential to profit from booming oil production, refined product pipelines (for supplying exports), and natural gas liquids, or NGLs (petrochemical boom on the Gulf Coast). All told, America's energy boom is expected to require up to $900 billion in new midstream infrastructure spending by 2040.
This means that Kinder should have no problem finding massive amounts of highly lucrative energy infrastructure projects to drive modest but highly consistent cash flow and dividend growth. Which ultimately means that the stock's long-term investment thesis remains intact.
4: Dividend Profile: Market-Beating Total Returns Still Possible
| | | | | |
| --- | --- | --- | --- | --- |
| Stock | Forward Yield | 2018 Coverage Ratio (Management Guidance) | Projected 10-Year Dividend Growth | Potential 10-Year Total Return |
| Kinder Morgan | 4.7% | 2.6 | 7.9% to 8.7% | 12.6% to 13.4% |
| S&P 500 | 1.8% | 2.5 | 6.2% | 8.0% |
(Sources: GuruFocus, F.A.S.T. Graphs, Management guidance, Multpl.com, Yardeni Research)
Ultimately, the reason for investing in midstream stocks like Kinder Morgan is to enjoy generous, safe, and growing income. This is why the most important part of midstream due diligence is the payout profile, which consists of three parts: yield, payout safety, and long-term growth potential.
Kinder's yield has now risen to highly attractive levels, thanks to the 60% dividend hike, and it now yields triple the S&P 500. However, it still far below the industry average of 8.5%. That's because the bear market in MLPs has caused the unit prices of fast-growing midstream operators to fall into the toilet.
On the plus side, the company's dividend is extremely well-covered with a 2018 expected (based on guidance) coverage ratio of 2.6. For context, the average midstream stock's coverage ratio is 1.3, indicating that Kinder will be retaining double the DCF of its average peer this year.
The other side of the dividend safety equation is the balance sheet. After all, it was Kinder's high debt levels that got it into trouble back during the oil crash and forced the company to cut its dividend by 75%.
| | | | | | |
| --- | --- | --- | --- | --- | --- |
| Company | Debt/Adjusted EBITDA | Interest Coverage Ratio | Debt/Equity | Credit Rating | Avg. Interest Rate |
| Kinder Morgan | 5.1 | 4.0 | 48% | BBB- | 5.0% |
| Industry Average | 4.4 | 4.5 | 53% | NA | NA |
(Sources: Earnings Release, Morningstar, GuruFocus, F.A.S.T. Graphs, CSImarketing)
Kinder Morgan has made great headway in strengthening its balance sheet; however, its leverage ratio remains above the industry average. Similarly, its interest coverage ratio is weaker than that of many rivals, and its BBB- credit rating means that the company's borrowing costs are higher than that of blue-chip peers like Enterprise Products Partners (NYSE:EPD), Magellan Midstream Partners (NYSE:MMP), Spectra Energy Partners (NYSE:SEP), and Enbridge Inc. (NYSE:ENB). Note that those four midstream operators all have BBB+ credit ratings – the highest in the industry.
Going forward, Kinder plans to get its leverage ratio under 5.0. Beneath that level (considered the max safe debt ratio), midstream companies enjoy higher credit ratings that should allow Kinder to lower its average borrowing cost even more (as it did recently). That being said, the company has indicated that leverage of about 4.9 is roughly where it intends to bottom out, which would still be higher than the 4.0-4.5 range that its blue-chip peers are targeting. Many smaller and faster-growing MLPs are looking to max out at 3.0-4.0 leverage, indicating that Kinder plans to maintain a higher-than-average debt load.
As for future dividend growth, that's the most important aspect to the company's long-term growth thesis. Because while management's plan to raise the dividend 150% between 2017 and 2020 is impressive, that dividend growth is almost all coming from payout ratio expansion rather than organic DCF/share growth. By 2020, if Kinder achieves 5% DCF/share growth, then its coverage ratio will decline to 1.81, and it will be retaining $2.3 billion in DCF each year after paying its $1.25 per share annual dividend. That should be sufficient to cover its projected long-term growth capex budget.
The good news is that Kinder's 2020 dividend plan would mean a yield on cost of 7.4%. Better yet, the chances of it being unable to achieve that planned dividend growth are very small. Remember, Kinder is funding its growth internally, meaning that the loss of Trans Mountain will actually decrease its capex and free up more DCF to go towards dividends (and buybacks).
However, the bad news is that in order to keep up with the growth rate of smaller peers (8% average DCF/unit growth), Kinder would need to spend $3-4 billion per year in growth capex. Now, given the incredible demand growth in energy infrastructure, it's certainly possible for the company to find enough projects to grow that much. In addition, it could fund $4 billion in growth spending via a 58%/42% mix of retained DCF and low-cost, fixed-rate debt. However, $3-4 billion in new spending is roughly 75% more than management is currently guiding for, indicating that the company's long-term DCF/share growth potential is roughly 4-5%. Factoring in the 25% annual payout hikes in 2019 and 2020, this means that Kinder Morgan shareholders can be expected to achieve about 8.3% dividend growth over the next decade.
That results in an expected total return of about 13%. That's far from best total return potential in the industry, but still about 60% better than what the S&P 500 is likely to generate from its current valuations.
5: Valuation: Kinder's Rock-Bottom Valuation Means A Good Deep Value Buying Opportunity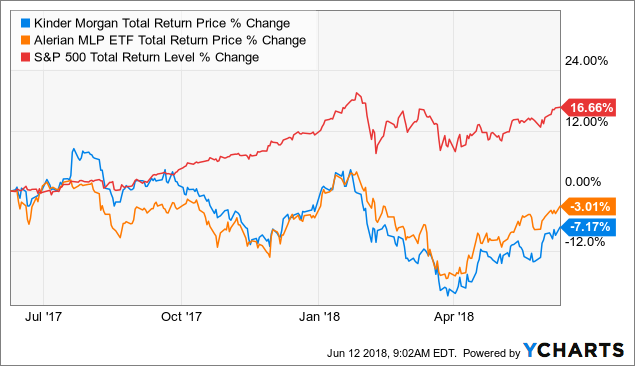 KMI Total Return Price data by YCharts
As the midstream bear market has extended into its fourth year, it's been especially rough for Kinder Morgan, which has underperformed most of its peers as well as the broader market. However, this does create a potentially good long-term opportunity for value investors.
There is no 100% objectively correct way to value a stock. Which is why I use a three-pronged approach to create a more robust valuation model that minimizes the chances of overpaying for a company. The first value screen is the total return potential from the payout profile (Gordon Dividend Growth Model). I'm only willing to recommend stocks that I believe have a realistic chance of beating the market over the next 10 years. And to actually buy a stock for my own dividend growth retirement portfolio, I need a company to have double-digit total return potential. Kinder Morgan clears both hurdles with ease.
The second approach I use is to look at the most relevant valuation metric for an industry (P/DCF in this case) to see what long-term growth rate is priced into a stock.
| | | | |
| --- | --- | --- | --- |
| P/DCF | Implied Growth Rate | Yield | 13-Year Median Yield |
| 8.4 | -0.1% | 4.7% | 3.8% |
(Sources: Management guidance, GuruFocus, Benjamin Graham)
In this case, Kinder's forward P/DCF of 8.4 is the second lowest among its larger blue-chip peers. The only large midstream stock selling for less is Enbridge Inc., which is my highest-conviction, low-risk, income growth investment right now, because merger uncertainty has caused its price/forward DCF to fall to about 7.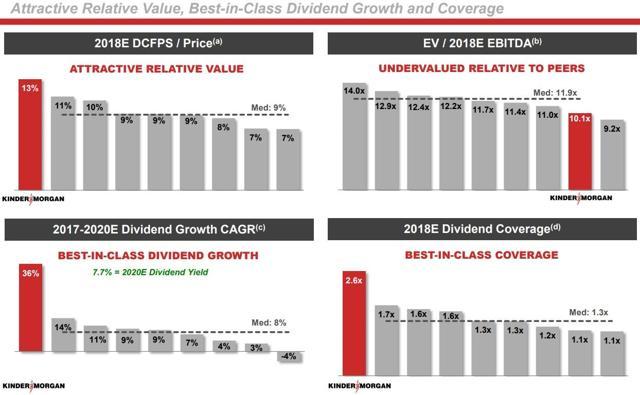 (Source: Kinder Morgan Investor Presentation)
Note: Valuations based on May 2nd 2018 prices.
The current P/DCF implies that Kinder Morgan will fail to grow its DCF over the next decade. Given that the company isn't likely to continue selling assets at a ferocious pace in the coming years, I consider this a very bearish assumption. Or, to put it another way, Kinder should be able to easily beat the very low-growth expectations baked into its current share price.
The final valuation approach I use is comparing a stock's current yield to its historical norm. The reason is that over time, yield tends to be mean-reverting. Or, to put it another way, it fluctuates around a fixed point that approximates fair value.
In this case, Kinder's yield is 24% above its 13-year median yield. Even if we account for the much smaller (50% less) dividend growth potential compared to the Kinder of yesteryear, the stock appears about 12% undervalued (fair value of $19.20). That's pretty much in line with Morningstar's $19 fair value estimate based on a dual-stage, long-term discounted cash flow analysis.
Ultimately, Kinder's low share price means you can buy its quality, wide-moat assets for a single-digit cash flow multiple. In general, anytime you pay less than 10 times cash flow for a company, you'll end up making money as long as the business isn't in decline. Since Kinder's growth prospects remain good (though smaller than in the past), this means that I can still recommend the company today (though not until you've bought ENB). That is assuming you are comfortable with Kinder's risk profile.
Risks To Consider
As we've seen with Kinder Morgan (and other midstream stocks) over the past four years, while this industry is one marked by relatively stable cash flow and great payout potential, there are plenty of things that can go wrong.
First and foremost, the failure of Kinder to build its Trans Mountain Expansion Project illustrates the execution risk faced by all midstream operators. Big projects like Trans Mountain or TransCanada's (NYSE:TRP) Keystone Pipeline are incredibly expensive (up to $8 billion). And because they can run thousands of miles through multiple states and countries, they require extensive permit approvals from local, state, and national regulatory agencies. And even if approval is granted, legal challenges can bottle up big projects for years and ultimately kill them. The good news is that most of Kinder Morgan's projects are not nearly as large and complex as Trans Mountain, which means the risk of the company failing to complete most of its remaining projects is low (though not zero).
In addition, be aware that while midstream cash flow is relatively commodity-insensitive (toll booth business model), it's not 100% immune to volatile energy prices.

(Source: Kinder Morgan Investor Presentation)
For example, per Kinder Morgan's guidance, should oil, gas, and NGL prices crater by 50% (possible in another energy crash), then the company's 2018 DCF would fall by about $311 million. That's the equivalent of a 6.6% decline in DCF/unit. The good news is that thanks to the company's self-funding business model, its dividend coverage is sky-high and will likely always remain so. This means that it should be able to avoid ever having to cut its dividend again. However, any major decline in DCF would impact its ability to fund further growth projects, which means that in another energy crash, Kinder's short-to-medium term growth potential could take a major hit.
In addition, while Kinder has 93% of its borrowing funded through fixed-rate bonds, management has said it does face some risk from rising interest rates. Specifically, should variable interest rates such as LIBOR (global commercial lending standard) rise by 1%, then it would face a $116 million per year increase in interest costs (about 6%).
Then, there's the risk of rising steel costs, which is the key raw material for completing pipelines. US steel tariffs have caused US hot rolled steel prices to rise by 40% in 2018 so far. Now, the good news is that this isn't the source of tubular steel used in pipelines (that comes almost exclusively from South Korea). However, according to Andy Black, CEO of the Association of Oil Pipelines, US steel tariffs could increase the cost of completing the average pipeline project by $76 million. Larger projects (like the Keystone pipeline) might end up costing an extra $300 million.
Finally, we can't forget that the ultimate cornerstone for all midstream investments is the assumption that America's energy boom will continue strongly for years driving, immense demand for new infrastructure.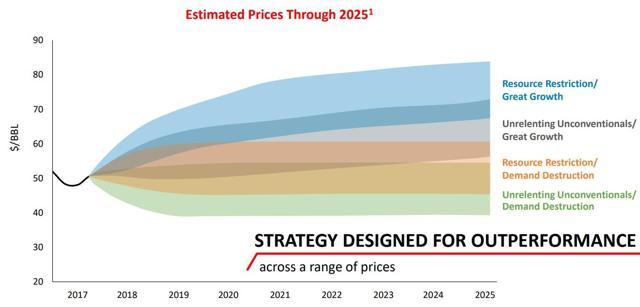 (Source: ConocoPhillips Investor Presentation)
However, that assumption could prove overly optimistic, as it relies on guesstimating long-term energy prices, which is extremely challenging. For example, according to ConocoPhillips's (NYSE:COP) internal long-term models of oil prices, the average price of crude through 2025 could range anywhere from $38 to $82 per barrel. The wide range is due to uncertainties surrounding the rate that the world switches to alternative energy, the pace of US oil production growth, and other hard-to-predict factors like global economic growth.
While it's safe to say that strong economic growth in countries like China and India should cause global oil demand to keep rising for several years (by about 1.5 million barrels per day), over the course of a 10-30 year investment, the error bars on any energy investment can become very large.
Bottom Line: Kinder's Turnaround Still Far From Over, But The Current Price Makes It A Likely Market Beater Over The Next Decade
Kinder Morgan's latest, and largest, growth setback is sure to understandably frustrate many long-suffering shareholders. After four years of terrible returns, the company has just now brought its yield up to something that can be considered adequate. And despite 25% dividend growth being very likely through 2020, ultimately, Kinder's potential as a high-yield income growth investment will depend on management being able to execute far better on its growth plans than it has thus far.
Don't get me wrong, Kinder Morgan is far from the best midstream operator out there, nor is it the most undervalued right now (that would be Enbridge, which is trading at seven times forward DCF). However, if you own Kinder stock already and/or are considering adding at current prices, I'm very confident that this high-yield blue chip offers a large margin of safety and isn't a value trap.
While Kinder Morgan isn't likely to be the best-performing midstream stock over the next decade, the company's remaining growth runway should still allow it to generate far superior total returns compared to the broader market.
Disclosure: I am/we are long EPD, SEP, ENB.
I wrote this article myself, and it expresses my own opinions. I am not receiving compensation for it (other than from Seeking Alpha). I have no business relationship with any company whose stock is mentioned in this article.